Brewery Tours
See how Japanese Sake is actually made!
In order for many people of all ages to have a chance to see how Japanese sake is made, we conduct tours of our brewery.
Adult customers who join our tour are able to sample Mikadomatsu sake for free.
※For underage participants or designated drivers, we offer samples of our preparatory water (special mineral-rich water that is used in preparing the sake).
Reservations are required to tour the brewery. If you would like to make a reservation, please do so by accessing the "Reserve a Brewery Tour" link below. We will reply within three business days.
※Reservations are not confirmed at the time of submitting the form.
Adjacent Brewery Facilities
■Mikadomatsu Direct Sales Office
In our renovated old rice mill, we sell Mikadomatsu sake as well as non-alcoholic items such as "sake-flavored ice cream" and "amazake" which have been featured on TV and in magazines. We also offer "organic cosmetics" derived from rice koji. We have many other local foods and handicrafts such as Japanese paper products available for purchase as souvenirs.
■Brewery Restaurant Shofuan
A place where you can enjoy a relaxing meal within the brewery grounds. Serves foods that are made with brewery ingredients such as sake, preparatory water, koji, sake leeks and more at lunch time and offers desserts during café time.
See Shofuan for more details.
Accessing Mikadomatsu
Designated drivers must not
drink alcoholic beverages.
directions_carBy Car
About 15 minutes from Ranzan-Ogawa IC by car
Parking lot available (about 100 spots)
trainBy Train
About 25 minutes from Tobu Tojo Line/JR Ogawamachi Station on foot
(5 minutes by taxi)
directions_bikeBy Bicycle
About 10 minutes from Tobu Tojo Line/JR Ogawamachi Station by bike
Bike rack available
About Mikadomatsu Brewery Festival
This festival is held at our brewery every February.
In addition to selling sake at extra-special prices, there are many events such as free samples, a sake evaluation contest, a Japanese drum performance, and more! There are also many local gourmet food stalls.
We upload details to Facebook and Instagram every year.
■Mikadomatsu Brewery Festival
Held every year on the last Sunday in February from 10:00 – 15:00
Location: Within Matsuoka Brewery grounds
※Brewery tours are not available the day before the festival in order to accommodate prepara-tions.
Brewery tours on the day of the festival are conducted based on a numbered ticket system. Prior reservations are not available, so tours may be joined by receiving a numbered ticket on the day of the festi-val.
(There are a limited quantity of numbered tickets available.)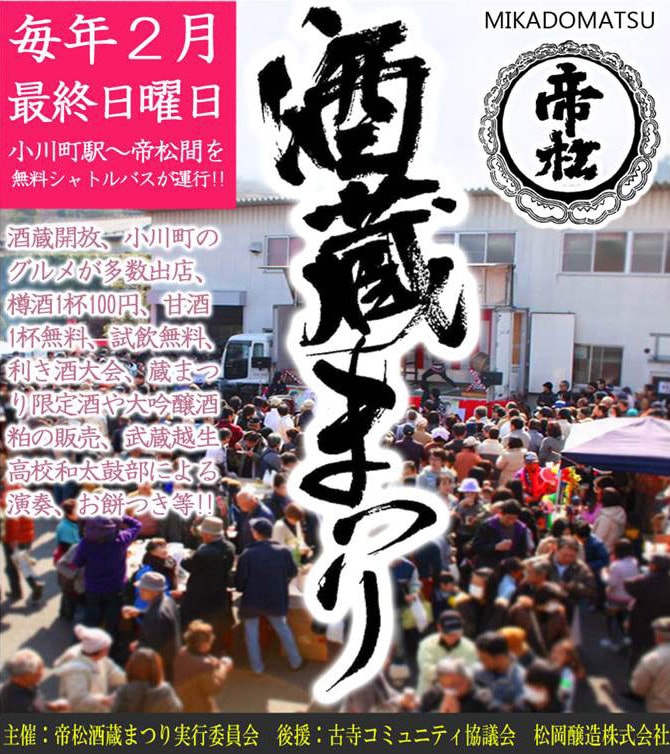 7-2 Shimofurutera, Ogawamachi, Hiki District, 355-0326, Saitama
TEL 0493-72-1234(Weekdays 9:00 - 17:30)