Product Introduction
Varieties of Sake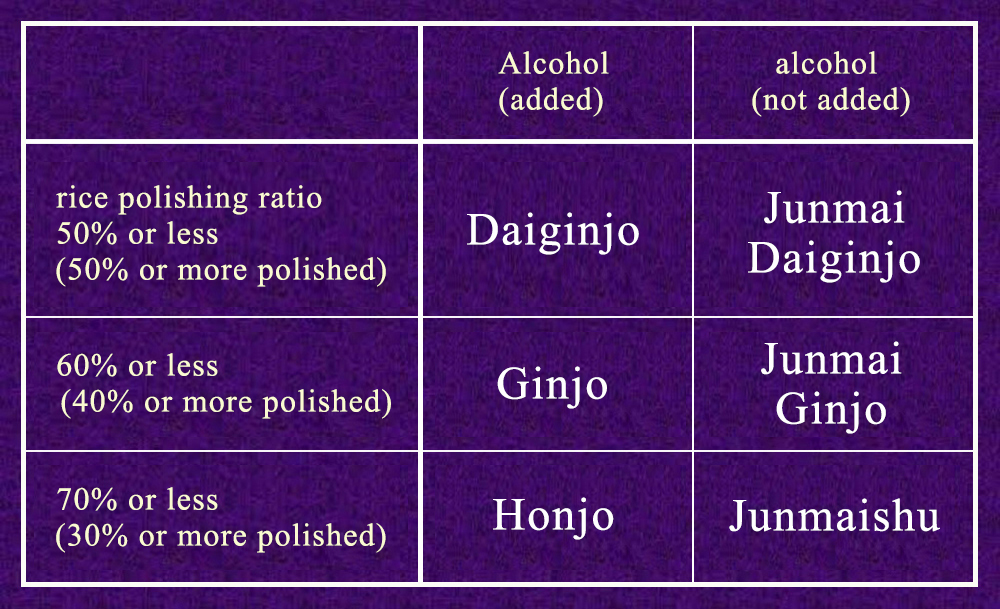 "Sake" is not an unfamiliar drink to us.
However, the term "sake" encompasses many different vari-eties, each with a taste that differs greatly depending on a number of factors.
The fragrance and flavor of sake is greatly influenced by how much of its primary ingredient, rice, is polished. The amount of polished versus unpolished rice for use in sake making is expressed through the "rice-polishing ratio."
Sake with a low rice-polishing ratio (higher rate of polished rice) is beautiful and fragrant, while the taste of sake with a high rice-polishing ratio (lower rate of polished rice) is said to be a way of unpretentiously en-joying the original flavor of the rice. However, if the rice is too polished, its essential flavor may be lost. Thus, it cannot be said that sake with a low rice-polishing ratio is always good sake.
Sake is classified by the "rice-polishing ratio" of the raw rice and whether "alcohol has been added or not added" as shown in the graph.
In the past, the addition of alcohol was looked down upon, but the law has set a limit of how much can be added. Currently, it is used to enhance the fragrance of the Ginjo, which was its original purpose, as well as balance the flavor. For this reason, sake with added alcohol is light, while sake without added alcohol is said to give a heavier impression.
Choose your preferred Mikadomatsu product
We have arranged the Mikadomatsu products into a graph so that you can select one based on your pref-erences. Recommended foods for pairing are also listed with each of the four categories.
In the next section, "Product Introduction," the listed products for each category will be introduced. By clicking on the image, you can view the product details.
Also, we have many other products available in our online shop. To view them, please access the "See all products here" link.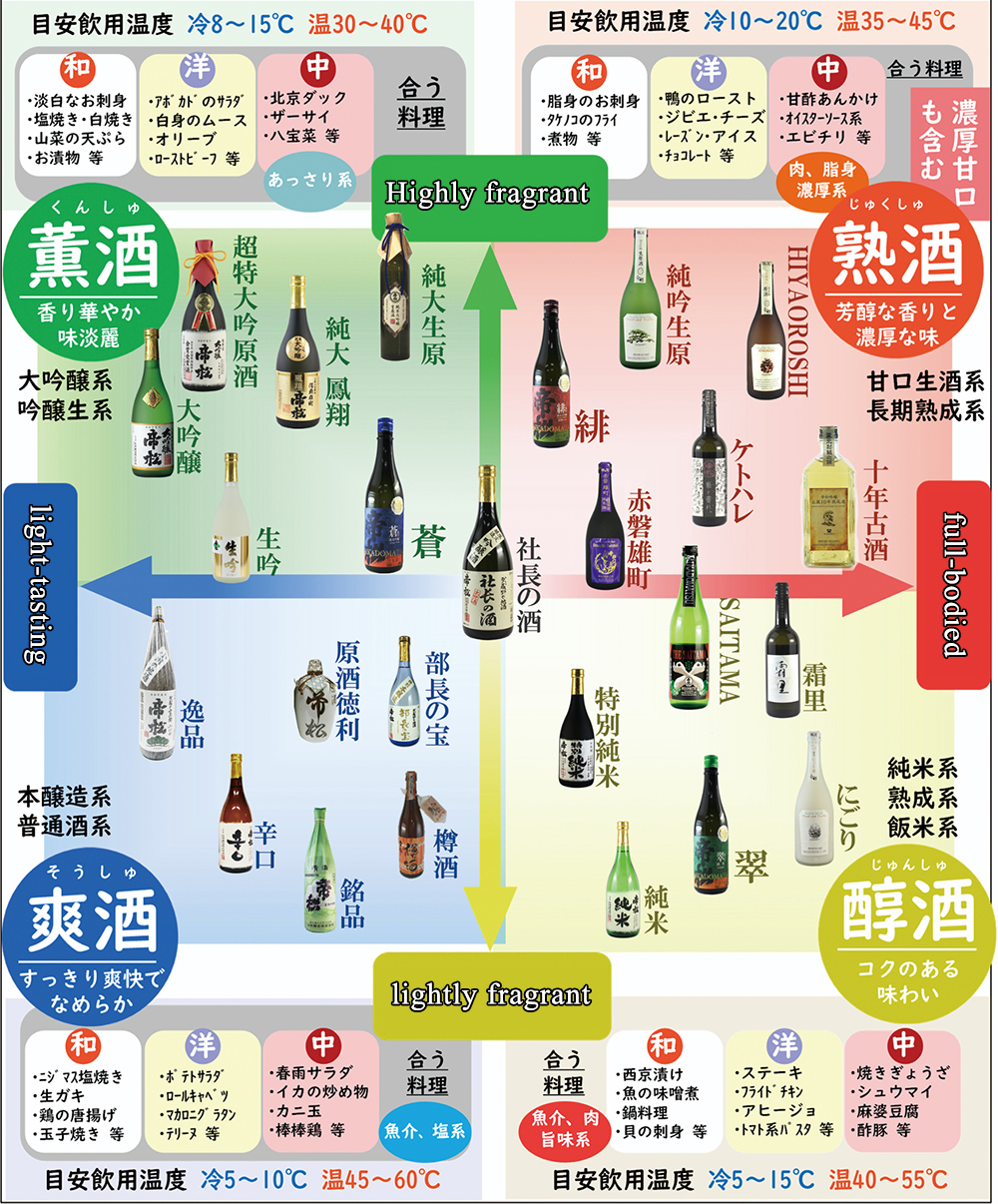 Upper Left "Fruity Taste" Products
Upper Right "Matured Taste" Products
Center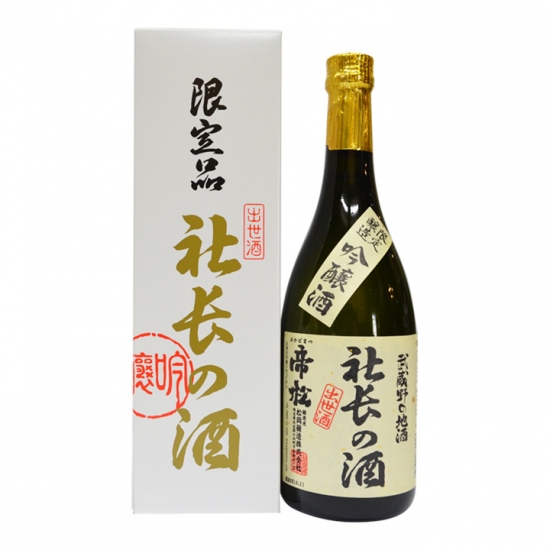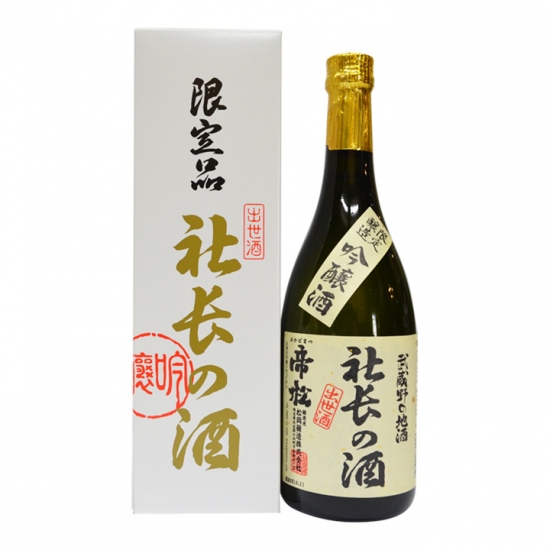 Mikadomatsu Limited-Production Ginjo Sake of Success "CEO'S Sake" 720ml
☆Sake of Success Series
Mikadomatsu's classic Ginjo, "CEO'S Sake."
Originally produced as a contest entry, it was given its name since it was only sampled by our CEO.
Currently, it receives acclaim from our customers as a "sake of success."
A well-balanced Ginjo that has a refined fragrance, acidity, and flavor.
It pairs well with any type of food and can be drank every day, but also makes a wonder-ful accompaniment for holidays such as work celebrations, Father's Day and more.
Bottom Left "Light and Smooth Taste" Products
Bottom Right "Full-bodied Taste" Products 7-2 Shimofurutera, Ogawamachi, Hiki District, 355-0326, Saitama
TEL 0493-72-1234(Weekdays 9:00 - 17:30)